The neckline hair design trend just keeps getting bigger. Building on the current hair tattoo trend, this version relocates the design from the sides to the back of the head for an eye-catching rear view.
The neckline hair design can use a fade haircut as a canvas or it can add a surprise finish to a tapered cut. The design itself can be a simple V or a complex multiple fade pattern. Let your barber get creative and see what they come up with!
This type of hair design works with any hair length from, short to long styles. It is a low commitment way to add something unique to your hairstyle so don't be afraid to give this look a try.
Check out a few of the hottest new hairstyles for men featuring shaved designs in the neckline. These 15 pictures are a few of our favorite cuts.
1. Jagged Neckline
Andrew Does Hair
This cool irregular neckline combines arcs and lines with fades and edges.
2. Crop + Burst Fade + Double Hairline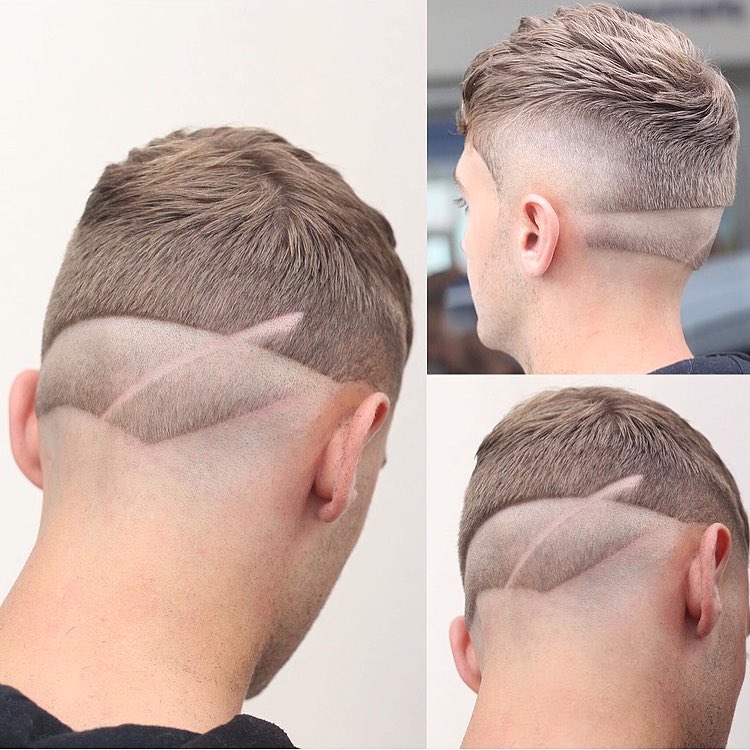 Josh O'meara-Patel
This fresh style features a crop on top and two very different levels hairlines interrupted by a shaved line. Check out these barber for many more unexpected fade haircuts.
3. Reverse Fade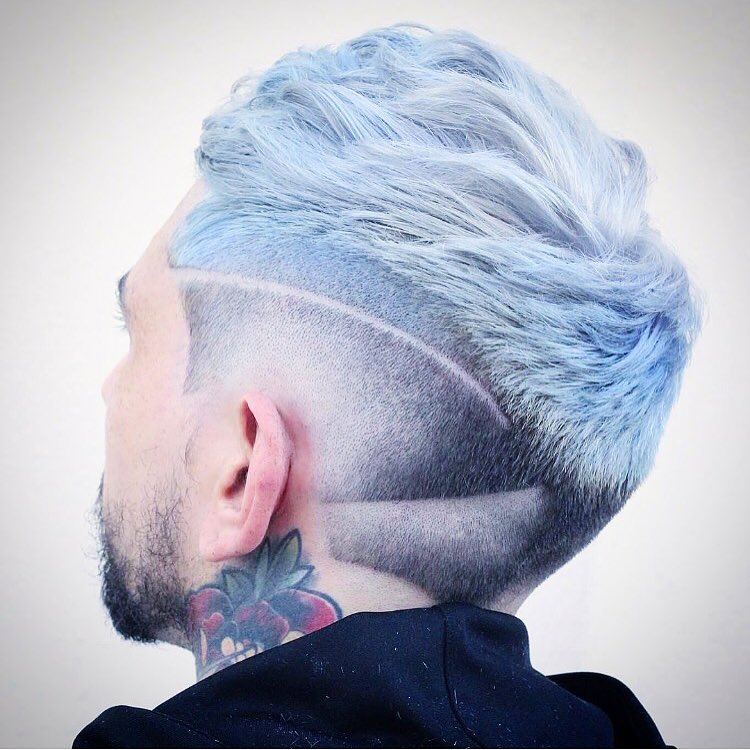 Josh O'meara-Patel
The reverse fade builds hair up from the neckline instead of tapering it out. An off-center V transitions into multiple fades that add lots of dimension.
4. Sideburn + Hairline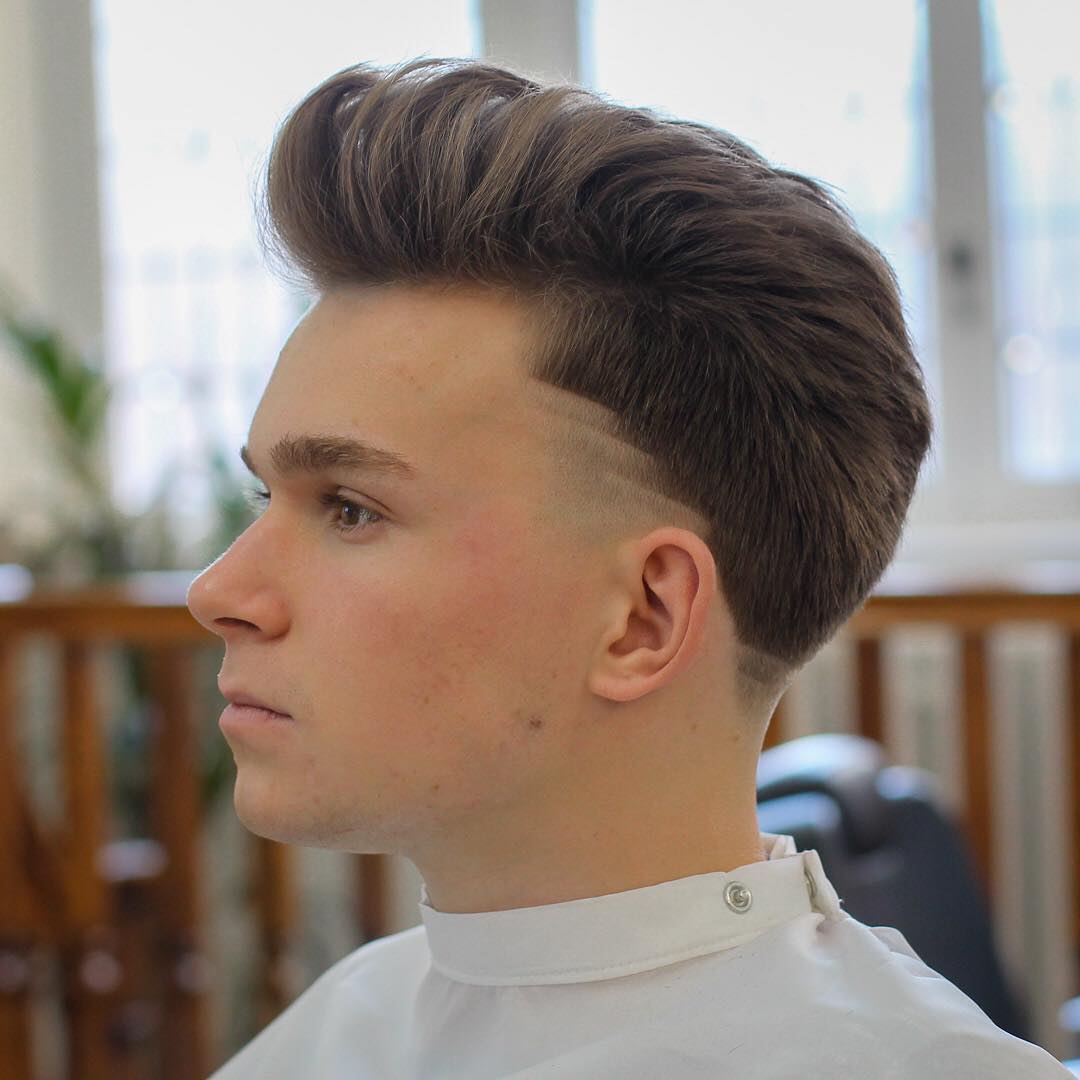 Rum Barber
A stylized version of the blow out, this cool cut juxtaposes diagonal lines shaved into the temple and hairline with a matte pompadour hairstyle on top.
5. Flat Top Fade + X-Ray Design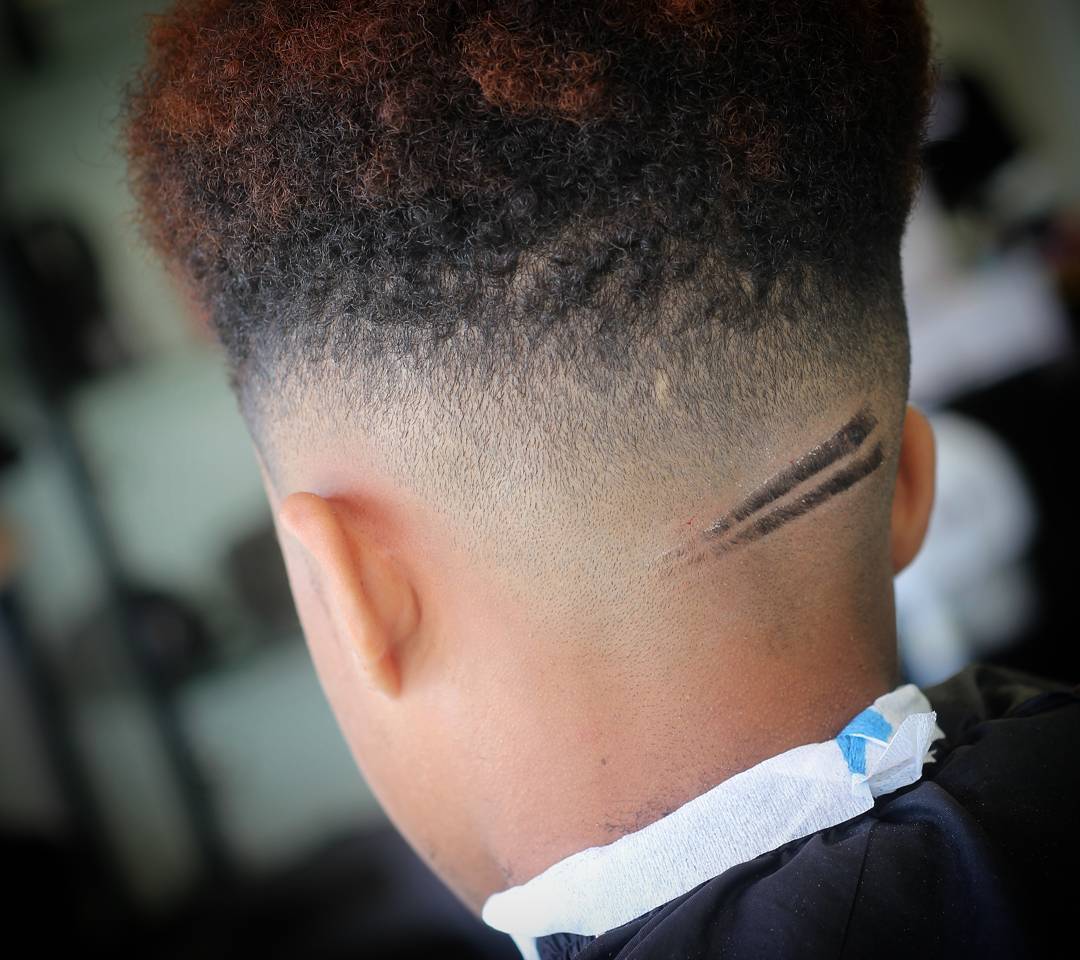 Atila the Barber
This classic flat top fade gets an update with a set of X-ray lines on the neck.
6. Taper Haircut + Shaved Lines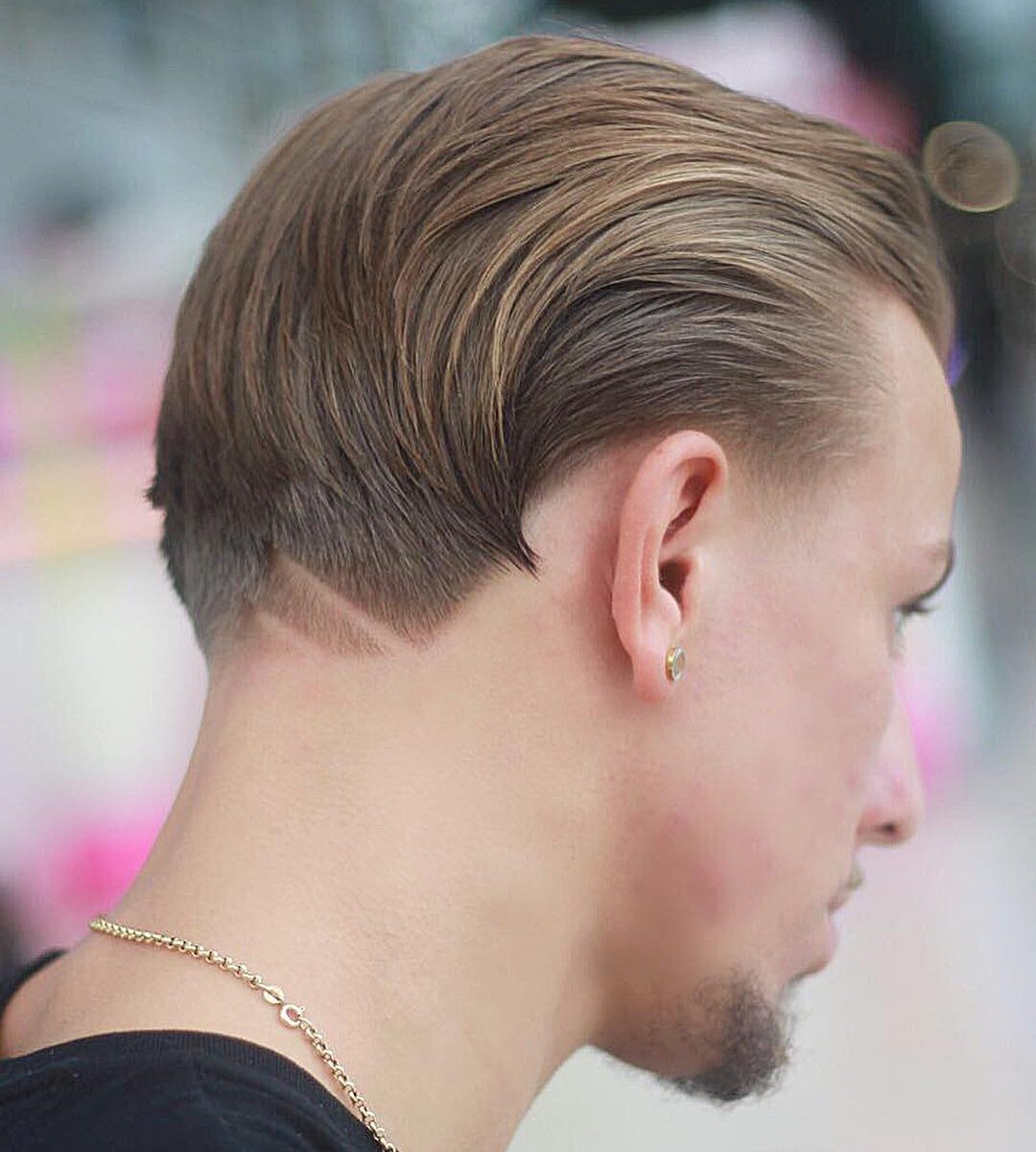 Stacey Notlie
Simple hair designs still have plenty of presence. A pair of shaved lines in the tapered neckline adds a cool finishing touch to this medium length slicked back style.
7. Asymmetrical Neckline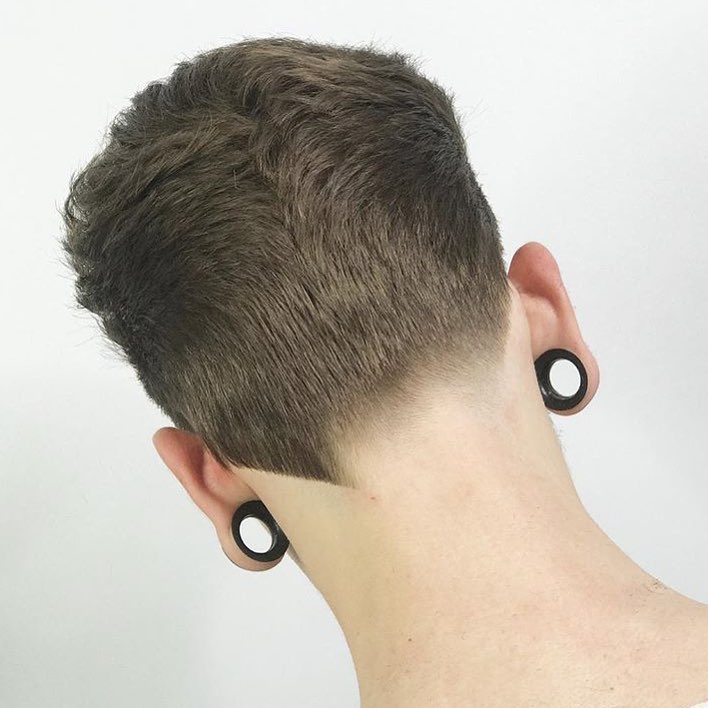 Sharp Fade
Another fresh update on a classic taper, this neckline contrasts an angled line with faded neckline.
8. V-Shaped Neckline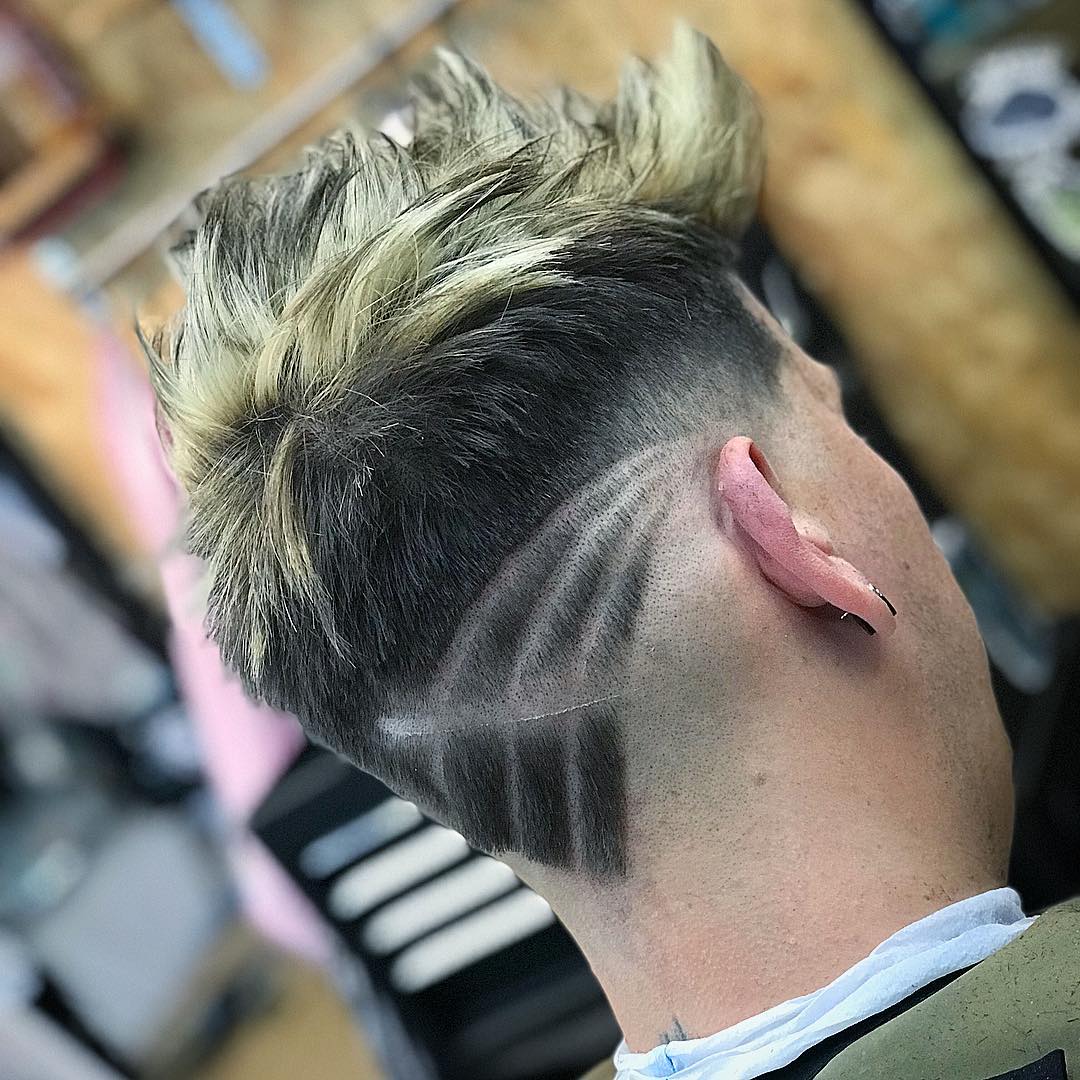 Jarreds Barbers
The V-shaped neckline is a popular finish to a range of haircuts. This version contrasts spikes on top with a striped V-cut.
9. Burst Fade Mohawk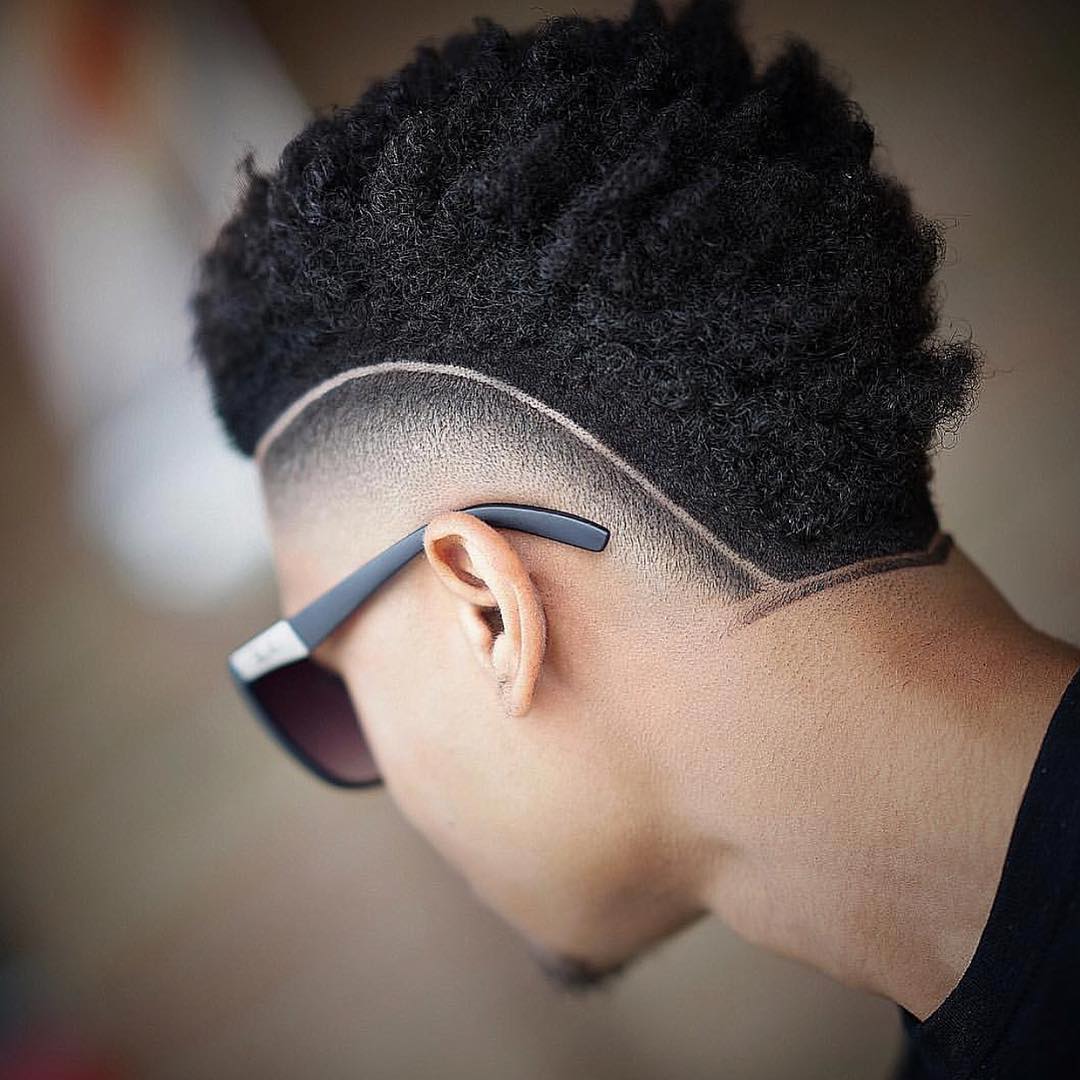 JM da Barber
The shaved mohawk for curly and straight hair is getting more popular this year. This cool style is edged with a fine line that follows the arc of the burst fade and pointed neckline.
10. Hair Tattoo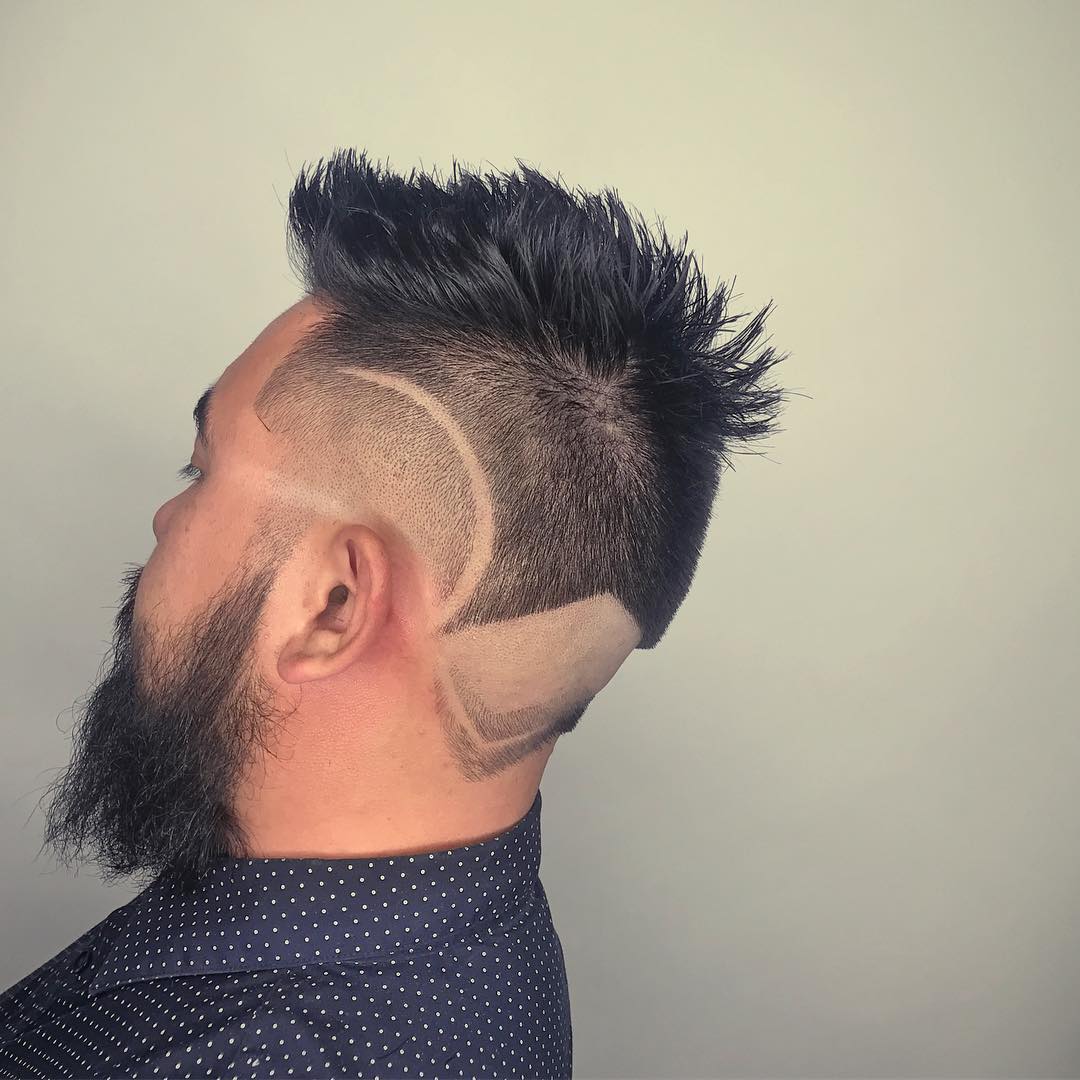 José Sosa
These bold look contrasts multiple Vs at the back with a shaved arc at the side.
11. Burst Fade + V-Cut Neck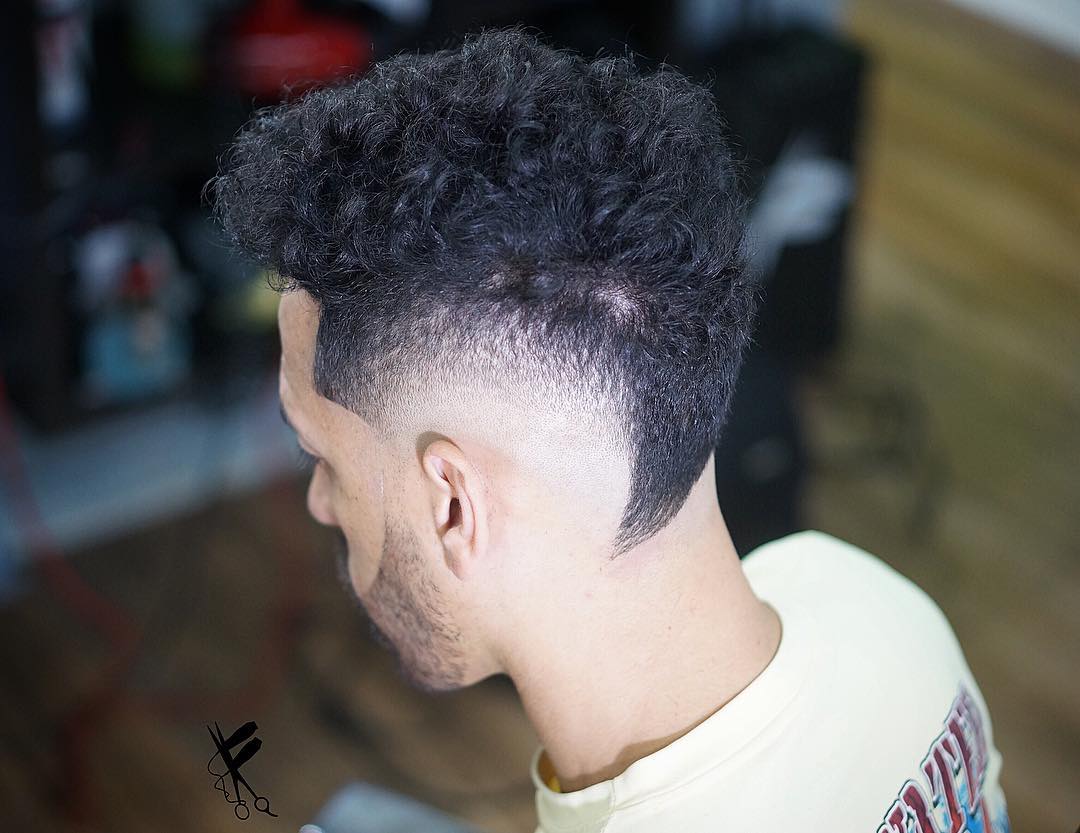 Art of Fades
There are so many different ways to get a pointed neckline. This cool version combines a burst fade with a rounded V.
12. Neckline Taper + Shaved Line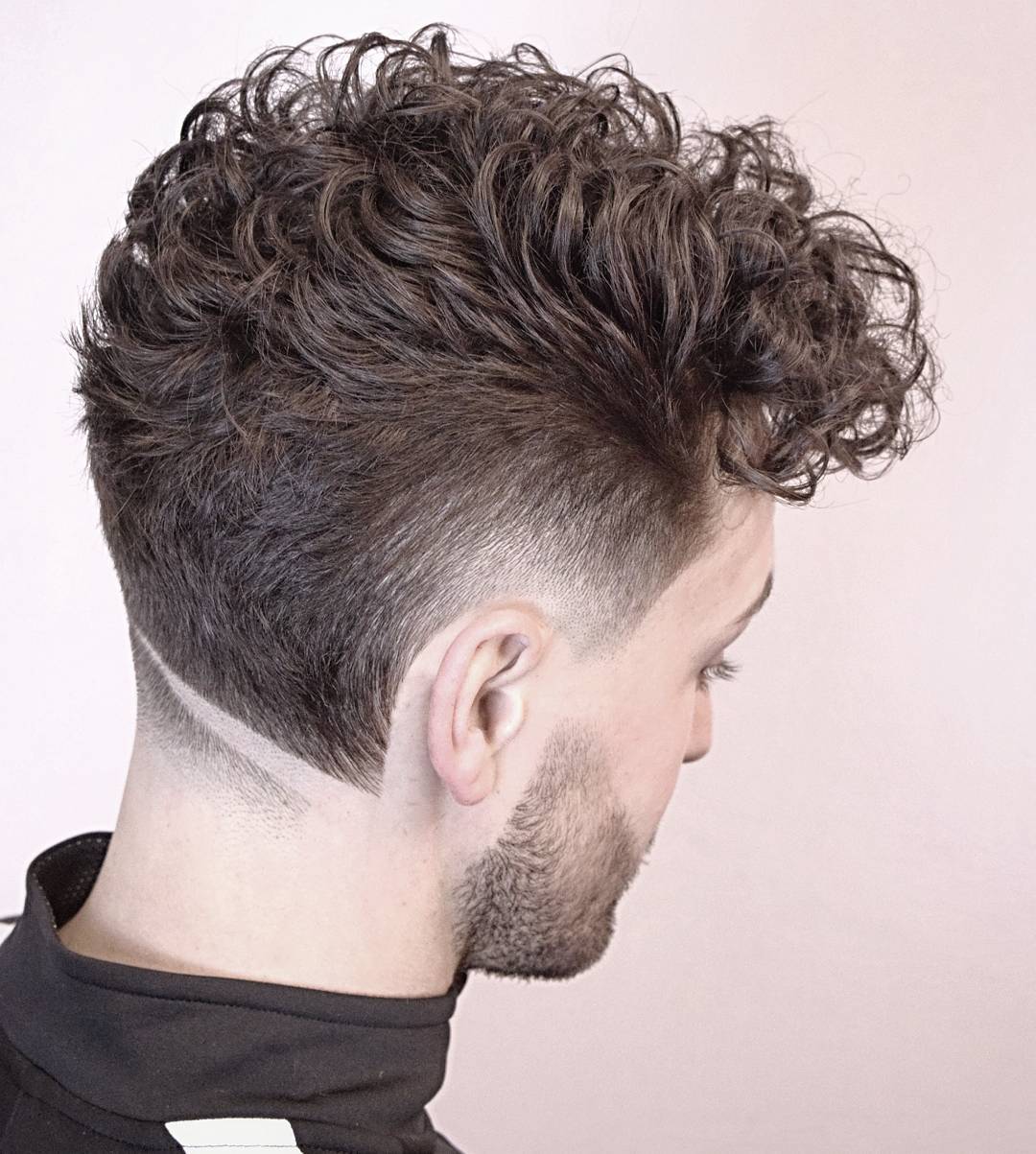 Paul Skerritt
This cool curly pomp gets extra cool for a sideburn fade and asymmetrical neckline that combines a fade and a shaved line.
13. Short Mohawk Haircut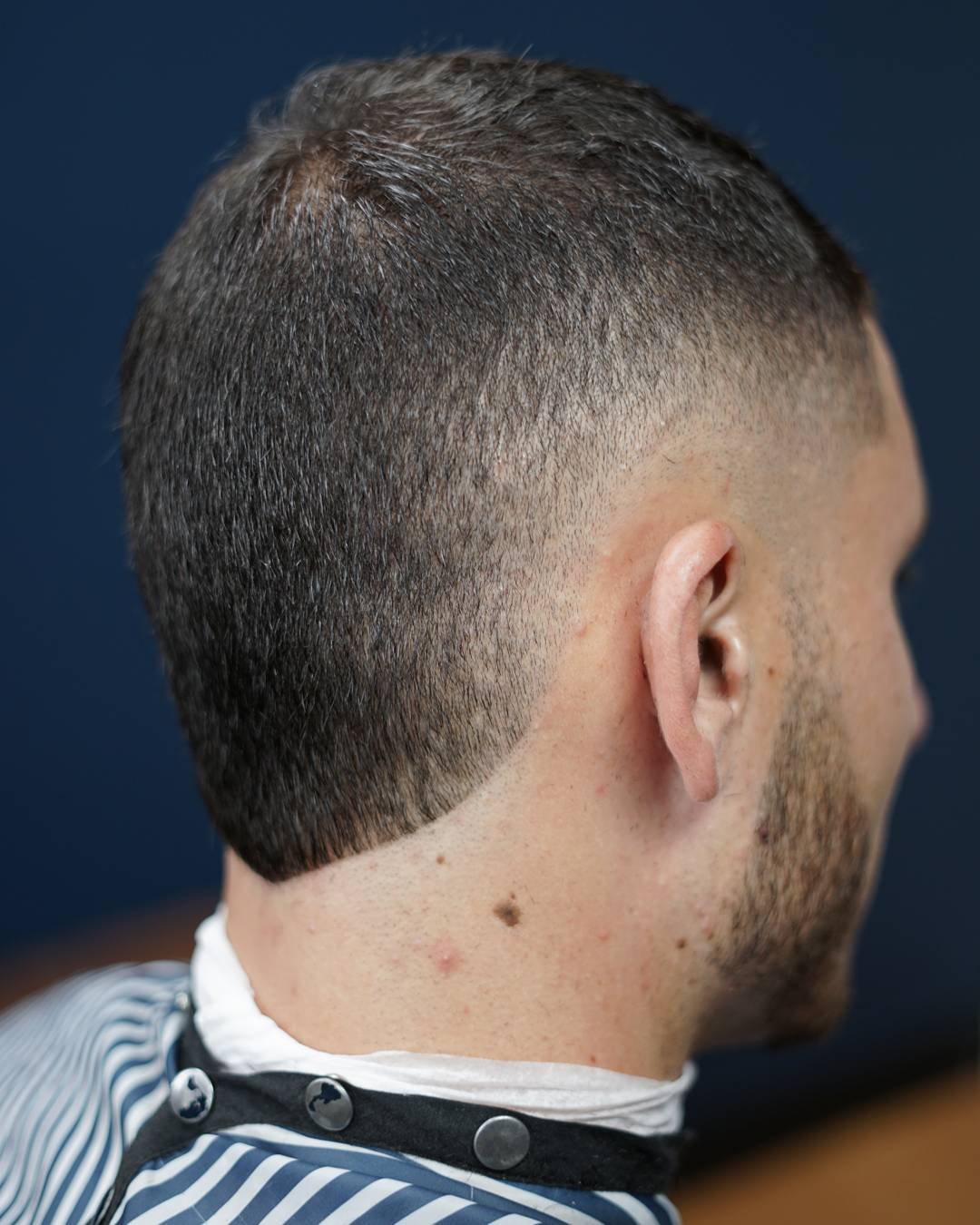 Raul Ponce II
A pointed V is the perfect way to finish a mohawk haircut of any length. This is a popular style in Major League Baseball right now because the neckline is visible with a baseball hat on.
14. Side Part Hairstyle + Burst Fade

Black Rose
This fade literally bursts and the combines with a V-cut neckline. The off-center hairline balances the side part hairstyle on top.
15. Shaved Heart Design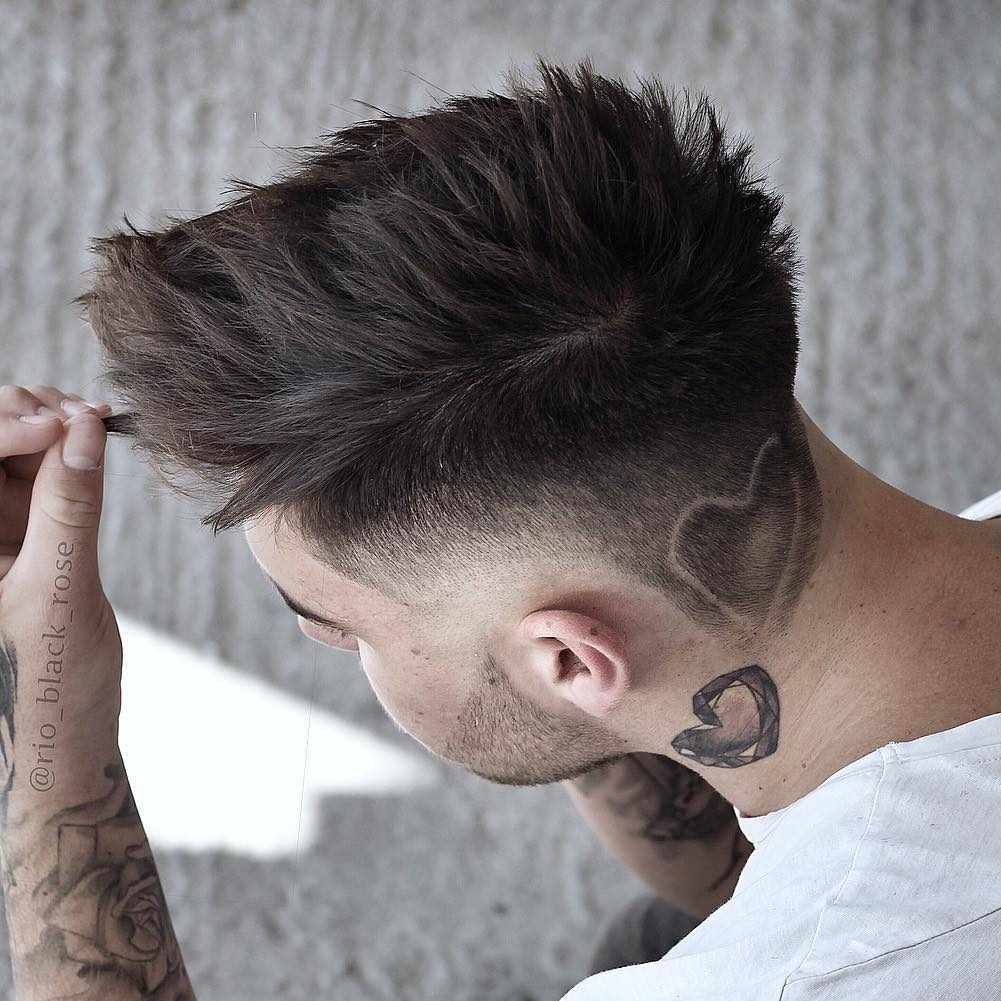 Black Rose
This heart hair tattoo mirrors the real thing on this gentleman's neck but would look great on its own too.